Signature of the Indo-French Alliance (IFA) charter
A group of French an Indian institutes have signed a charter to create an Alliance for French and Indian academic cooperation.
Taking the opportunity of the second Indo- French Knowledge Summit which took place on October 17-18, 2019 in Lyon, several French an Indian Higher Education Institutes have signed the charter creating the Indo-French Alliance (IFA) for academic cooperation.
The purpose of the Alliance is to develop collaboration between the institutions by promoting exchange of students, faculty mobility, joint research, scientific workshop, seminars, and scholarships for young scholars from both countries.
The charter was signed by representatives of the following "Founder members" ie Universities and Institutions from India an d France:
French University Members:
IMT Mines Albi
INP Toulouse
Polytech Nantes
Polytech Orleans
Institutional Member:
Network n+i
Indian University Members:
University of Petroleum and Energy Studies (UPES)
Mody University
Jaipuria Institute of Management
VIT (Regular Member)
The promotor of the IFA, Dr. Ugur GUVEN said " The IFA is geared to welcoming more French and Indian institutions in order to further develop and open new fields of collaboration between the two countries in the domain of higher education and research."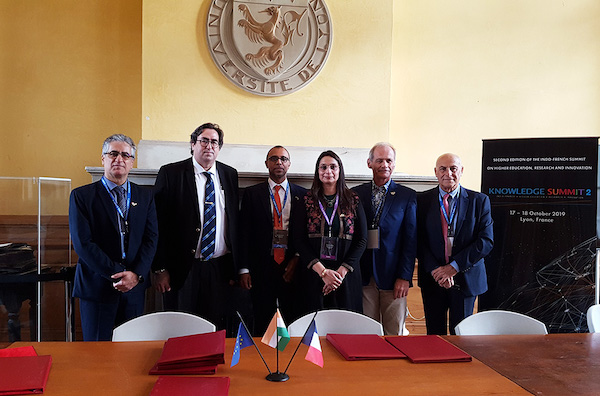 from left to right:
Prof. Tchanguiz Razban, representative of Polytech Nantes
Dr Ugur Guven, representative of UPES, Executive Coordinator of IFA
Mr Narendra Jussien President of IMT Albi
Dr Poonam, representative of Jaipuria Institute of Management
Prof. Pascal MAUSSION representative of INP Toulouse
Prof. Georges Santini, Executive Director of Network n+i