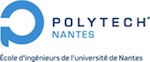 Master n+ Polytech Nantes Electronics
Majors:
Embedded and Real Time Systems
Mobile Communicating Systems
Multimedia systems and Network Technology

Official Title
Electronique et Technologies Numeriques
Prerequisite of the training
Bachelor (minimum)
Formation type
Initial education
Course language
| Major | M1 | M2 |
| --- | --- | --- |
| Embedded and Real Time Systems | French | French |
| Mobile Communicating Systems | French | French |
| Multimedia systems and Network Technology | French | French |
The M1 section is taught by
The institute : Polytech'Nantes, La chantrerie, rue C. Pauc, 44306 Nantes cedex 03
The M2 section is taught by
The institute : Polytech'Nantes, La Chantrerie, rue C. Pauc, 44306, Nantes cedex 03
Domains
Radio communications and mobile, Networks (Computer), Embedded systems, Digital simulations, Electronics
Location
Polytech'Nantes, La chantrerie, rue C. Pauc, 44306 Nantes cedex 03
Nantes
Description M1
This formation is part of an engineering curriculum in Electronics and Digital Technologies. During the two semesters the students acquire a solid understanding of the design and use of electronic systems that combine hardware and software. Both theoretical and practical instruction appeals to scientific disciplines that revolve around electronics, computer science, signal processing and computer science. Social sciences are also an important part of the formation : business administration, economics, marketing, project management, international relations, foreign languages.
Scholarships M1
Bourse Région 7000 euros
Note: a part of (or all) the M1-Period 1 will be replaced by a "n+i" special package designed for foreign student.
See the Methodology Integration Package (PIM) for more informations.
DIGITAL CIRCUIT, MICROPROCESSOR, MEDIUM FREQUENCY ELECTRONICS
fr
131.00
13.00
NUMERICAL ANALYSIS, MICROELELECTRONICS, STOCHASTIC SIGNAL PROCESSING
fr
99.00
9.00
HUMANITIES
fr
111.00
8.00
DIGITAL COMMUNICATIONS, MULTIMEDIA SIGNALS, OPTIMIZATION
fr
106.00
9.00
REAL-TIME SYSTEM, HF ELECTRONICS, COMPUTER NETWORKS AND DATABASES
fr
203.00
13.00
HUMANITIES
fr
128.00
8.00
* The number of course hours may be subjected to slight variations.
* More informations about ECTS credits.