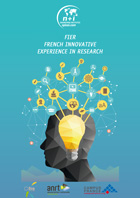 You have a master's degree and you wish to pursue a doctoral thesis?
More than 100 French research laboratories associated with the "n + i" network are waiting for you.

The network "n + i" offers a special program for you! The FIER-Doc French innovative Experience in Research.

It is a 5-month program to prepare you for the job of researcher with 2 months seminar in Paris on the governance of research (ethics, societal role of the researcher, security of its data, how to publish, patents, Communication, bibliographical research ...) followed by 3 months of research internship in the laboratory that wishes to enroll you in thesis (more than 40 cities)?

After a successful FIER-Doc, your thesis can be funded by:
your university or the scholarship funding organization in your country or
by an Eiffel scholarship awarded by the French government (Campus France) or
financed by a "CIFRE" scholarship in partnership with a company. A program managed by the ANRT (National Agency for Research and Technology).
Scholarships, depending on the country, are available for this FIER-DOC program.
Apply is free, and we will tell you if you are eligible to a scholarship according to the criteria of the scholarship organization of your country.
Apply
now (before August 31, 2017) for the next FIER-Doc that will begin on
February 1, 2018
in Paris (next school year will be October 1, 2018).
Share on